Prior to 2016, Elizabeth Warren had been suggested as a possible 2016 presidential candidate by supporters and the media.
Even prior to running for Senate a Facebook group was started to support Warren in 2016.[1]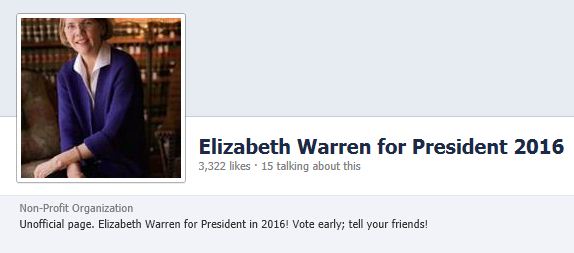 Even before winning the Senate race against Scott Brown in November 2012, Warren was mentioned as the 2016 presidential choice of the progressive movement by The Atlantic[2], The Huffington Post[3], ABC News[4] and others.
A December 15, 2012 article at the left-wing website Daily Kos placed Warren on the list of potential candidates[5].
Warren's name was mentioned as a favorite of commenters at Huffington Post [6] and elsewhere.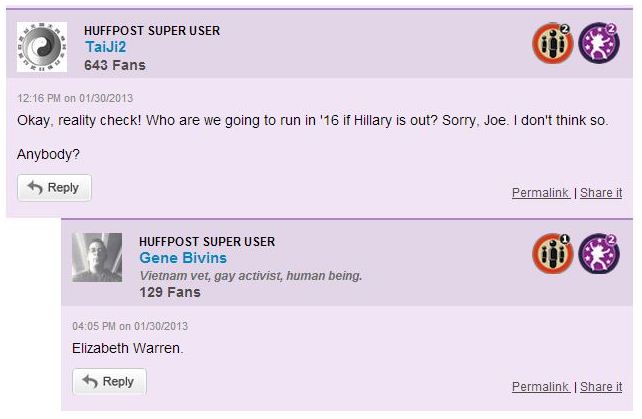 Warren had denied that she plans to run for President.[7]
On February 15, 2013, Elizabeth Warren made her debut[8] on the Senate Banking Committee, and aggressively questioned banking and securities regulators,[9] leading to renewed calls for Warren to be a presidential candidate[10]: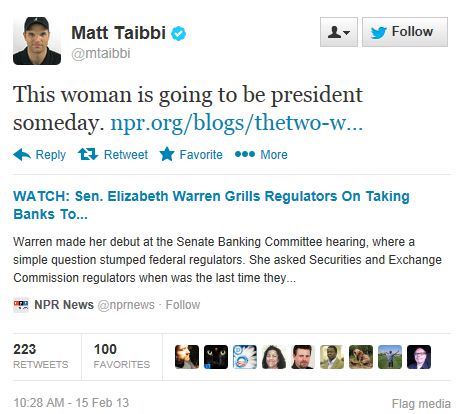 And from Wonkette [11]:
Of course, we use the term "regulators" figuratively, given that they can't seem to regulate their asses with both hands, but Elizabeth Warren makes this point far better than we ever could which is why BIDEN/WARREN 2016! Or SANDERS/WARREN 2016! Or we could even be persuaded to back CLINTON/WARREN 2016! Or WARREN/BOOKER 2016! We'll unreservedly and enthusiastically consider any of those options.
Ballotopedia has a page dedicated to Warren 2016 [12].
References
Last Updated: October 3rd, 2019