Academic Career
Elizabeth Warren began her academic career as a lecturer at the Rutgers School of Law-Newark between 1977-78. Between 1978-1980 Warren was an associate professor of law at the University of Houston Law Center, and between 1980-81 she was the associate dean for academic affairs. Between 1981 and 1982, she was a visiting professor at the University of Texas-Austin, and between 1983-87 she became a permanent professor of law. and between 1981-87, she taught at the University of Texas School of Law.
In 1987 she began teaching at the University of Pennsylvania Law School, and in 1992 she became a visiting professor at Harvard Law School, a position which became permanent in 1995 when she was named the Leo Gottlieb Professor of Law.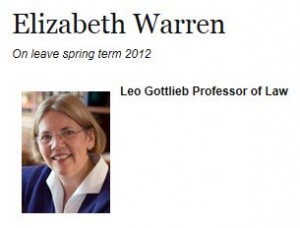 Her teaching fields include Bankruptcy, Contracts, Secured Lending, Empirical Methods, Payment Systems, Commercial Paper, Regulated Industries, Corporations, Partnerships, and Banking Regulations. [1]
Warren's Harvard Law School biography, pror to her leaving to joint the Senate, lists her many professional accomplishments and publications.[2]
Government Career
In 1995 Warren acted as Senior Adviser to the National Bankruptcy Review Commission [3].
From November 2006 to November 2010, Warren was a member of the FDIC Advisory Committee on Economic Inclusion. She is a member of the National Bankruptcy Conference, an independent organization which advises the U.S. Congress on bankruptcy law.
In 2010, she was appointed by President Barack Obama to launch the Consumer Financial Protection Bureau, but in 2011 was passed over as his pick to lead the new agency [4].
Economist Cass Sunstein [5] argues that government should "nudge" the populace to evoke approved responses. Building on this idea, Adam Levitin summed up Warren's style as follows [6]:
Meanwhile, Warren was also out of step with behavioral-­economics disciples like Cass Sunstein, who believe that government works best when it "nudges" people's decisions rather than mandates them. Warren favors far more traditional command-and-control regulatory approaches. "Elizabeth is fine with a nudge," says Adam Levitin, a Georgetown law professor and Warren protégé, "but she also knows that sometimes you need a sharp elbow, and she's not afraid of that."
Political Career
In 2012, Elizabeth was the Democrat nominee for U.S. Senate in Massachusetts against incumbent Scott Brown (R-MA) and was elected.
References
Last Updated: October 3rd, 2019