Elizabeth Warren came under fire[1] in October, 2019 for repeatedly stating on the campaign trail that in the 1970's she was fired for being pregnant.
This account of events conflicts with a 2007 interview[2] in which she explained that she did not have the proper teaching credentials to remain in the job. As of October, 2019, you can view the full interview here.
Amanda Prestigiacomo, writing for the Daily Wire, reports:[3]
"I loved it, and I would probably still be doing it today but back in the day, before unions, the principal, by the time we got to the end of the first year, I was visibly pregnant," Warren said while on the campaign trail in May, as reported by Jeryl Bier on Wednesday. "And the principal did what principals did in those days: they wished you luck, showed you the door, and hired someone else for the job. And there went my dream."

Similarly, in April, the Democrat said at Al Sharpton's National Action Network convention: "Teaching special needs kids is a calling. But I finished out the year visibly pregnant and didn't get invited back. Those were the days."

However, as highlighted by Bier, during an interview in 2007, Warren recalled leaving her teaching job because she did not have requisite qualifications — a far cry from claiming to be have been canned by a male principal for being with child.

At UC Berkeley in 2007 as part of a series called 'Conversations with History,' Warren was asked about her pursuit of a career helping special needs children," Bier reported. "Her answer at the time made no mention of losing her job due to her pregnancy. Instead, she spoke of trying to further her education because she lacked some education courses that had required her to rely on an 'emergency certificate' to teach that first year. While pursuing those courses, she said she realized, 'I don't think this is going to work out for me.' She and her husband then decided she would stay at home for the time being."

"I was married at nineteen and graduated from college after I'd married, and my first year post-graduation I worked in a public school system with the children with disabilities," Warren said at the time. "I did that for a year, and then that summer I didn't have the education courses, so I was on an 'emergency certificate,' it was called. I went back to graduate school and took a couple of courses in education and said, 'I don't think this is going to work out for me.' I was pregnant with my first baby, so I had a baby and stayed home for a couple of years, and I was really casting about, thinking, 'What am I going to do?' My husband's view of it was, 'Stay home. We have children, we'll have more children, you'll love this.' And I was very restless about it."
Additionally, the Washington Free Beacon reported that county records indicating she resigned her teaching position further undermine Warren's claims.[4]
The Riverdale Board of Education approved a second-year teaching contract for a young Elizabeth Warren, documents show, contradicting the Democratic presidential candidate's repeated claims that she was asked not to return to teaching after a single year because she was "visibly pregnant."

Minutes of an April 21, 1971, Riverdale Board of Education meeting obtained by the Washington Free Beacon show that the board voted unanimously on a motion to extend Warren a "2nd year" contract for a two-days-per-week teaching job. That job is similar to the one she held the previous year, her first year of teaching. Minutes from a board meeting held two months later, on June 16, 1971, indicate that Warren's resignation was "accepted with regret."
Following these revelations, Warren reiterated her disputed claims.[5]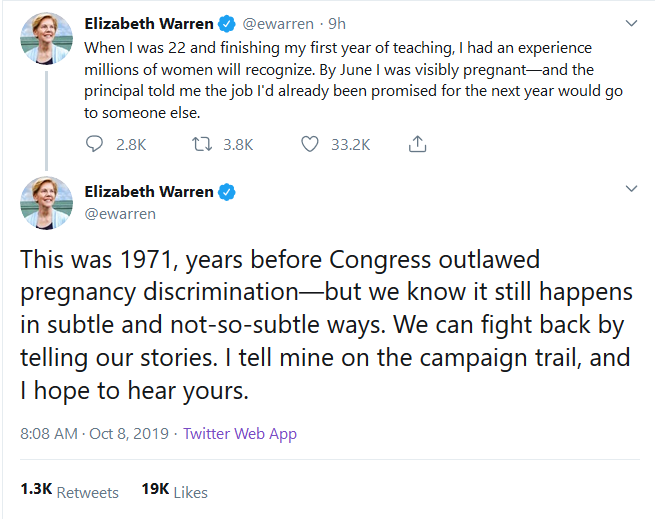 In an October 7, 2019 interview with CBS News,[6] Warren insisted that the job she "had been promised . . . was going to someone else."
On the campaign trail, Elizabeth Warren often tells the story of how she was fired from her first teaching job in 1971 because she was pregnant, a pivotal moment that ultimately put her on a path to Harvard, the United States Senate, and quite possibly the presidency. But recently, several media outlets have questioned the veracity of these claims.

In an exclusive interview with CBS News on Monday evening, Warren said she stands by her characterizations of why she left the job.

"All I know is I was 22 years old, I was 6 months pregnant, and the job that I had been promised for the next year was going to someone else. The principal said they were going to hire someone else for my job," she said.
CBS News further reported on October 9, 2019 that Warren "defends her claim that she was fired over pregnancy."[7]
After documentary evidence called into question the assertion that she was fired for being pregnant, Warren supporters suggested the "right wing" was responsible for challenging her claim. However, it turns out that the person who uncovered the 2007 interview[8] is a socialist[9]
who supports Vermont Senator Bernie Sanders (I) in his 2020 presidential bid.[10]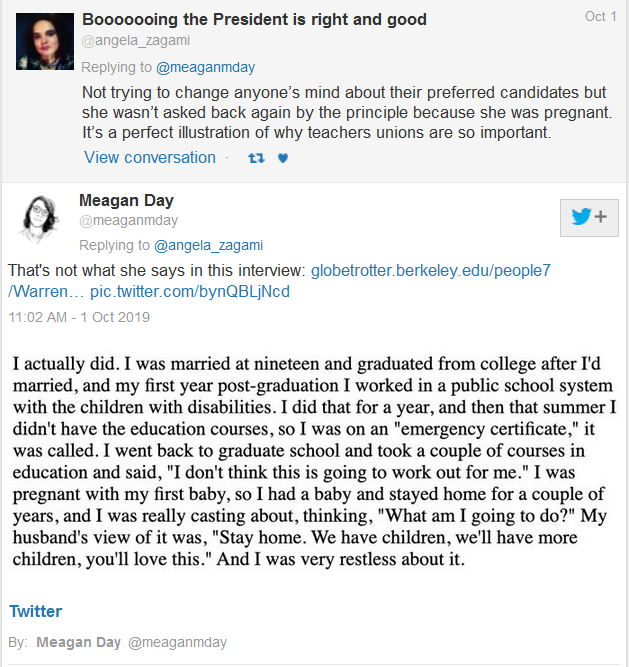 References
Last Updated: October 29th, 2019